Clare Langhorne
Strategic Attachment Lead Teacher
Training Team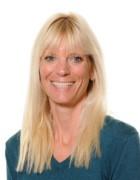 Clare is a National Strategic Attachment Lead Teacher, Class teacher, Deputy Head and Head of a Complex Needs Outreach service (to mainstream schools) in Brighton and Hove part of the week.
She presents and tutors for schools and authorities nationally one day a week for the TouchBase Centre CiC.
Clare Langhorne is Deputy Head teacher at a school for 5 to 16-year-old children with a variety of Complex learning, emotional and behavioural needs. The school runs an, ever evolving, Attachment aware and trauma informed model that has proved extremely successful for many children who have suffered relational trauma and significant loss. The model uses a range of strategies using the Attachment framework, the trauma tree, Seguridad, relationship building (using PACE- based on Dan Hughes model), communication skills, staff self-awareness, sensory diets and multi-agency working.
Clare is trained in Sensory Attachment Intervention (SAI), developed by Eadaoin Bhreathnach. The model looks at attachment and sensory processing from an integrative, neuro-behavioural perspective. The Just Right State programme enables staff to use sensory programmes to help children to increase their emotional regulation skills. Working with attachment specialist OT and CAMHS colleagues has enabled her to use Just Right programmes which have been very successful for pupils to use both in schools and at home. Setting-up and running the programmes for individual children and their families has enabled ample opportunity to extend knowledge and experience in this developing area of specialism.
In 2001, Clare ran a government funded Inclusion project that looked at developing school systems and staff teams to meet the needs of young people with complex emotional needs, this then led to development of a very successful countywide outreach service. As Head of the Complex needs Outreach service, she and her team, provided training and support for staff in mainstream primary, secondary schools, post 16 colleges and related agency staff to start developing an understanding of attachment matters.
Clare has been trained in the use of DDP and Theraplay Informed Practice. She is continually exploring ways to embed these strategies and ways of being in school systems to support children and families.
Due to national recognition of the need for early intervention to support children and their families Clare has been working with LA colleagues to set-up Early Help school models. She has begun using ACEs (Adverse Childhood Experiences) research to improve identification of need and enable increased understanding of the wider impact of children's unmet emotional needs and how we can work together to provide 'good enough care' in a sustainable and truly effective way.
Clare has a strong belief in working with school staff, families and agencies to gain wrap around support for these young people and is therefore keen to help develop the knowledge and understanding of all those involved in troubled young peoples' lives.
Clare has worked alongside Louise Michelle Bomber for many years. She delivers Day 1 (Inside I'm Hurting') and Day 2 ('What About Me') training courses for TouchBase, as well as the (Degree and MA level) 7-day intensive Attachment Lead in school's course, accredited by the University of Brighton.
For more information or to book Clare to deliver training for your school, organisation or authority, please contact info@touchbase.org.uk.